Quilts
My bestfriend Cicci is the one that showed me the wonderful wold of quilting.
She realy inspired me to start to quilt.
The most relaxing thing I know is sitting down with a quilt to sew.
Looking in quiltmagazines for insperation is relaxing too.
I have a lot of PIMM's; Projects In My Mind; but where do I get the time to do all I want to do?


.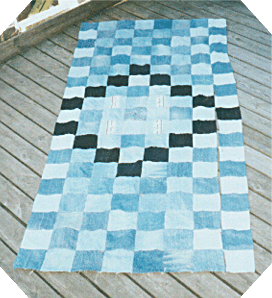 My ufo, unfinshed objekt, denim fabric and I do sew it all by hand. Started years ago and I sew one squere at the time, when I am in the mood.
Sometimes I wonder if it will be finished at all.
Haven't sewn on it for a year or so...



I have lots of PIMM'S, projects in my mind, but so little time to make them all. My quilting friend said to me that I need to have more UFO's so I can choose between quiltprojects... I almost never have UFO's I often sew the whole quilt befor I start on the next one. My biggest problem are that I never have enoguh fabric at home to start the next quilt project.
Look around on my pages to see what I have made.

I update them as soon as I have done someting new

I think I need a larger sewintable now...

| Home | Quilts | Colorworks | Embroidery | Teddybears and dolls | This and that | Bags | About me | Links |